All of these titles are available via my author's page at Amazon, though you really should support you local mom-and-pop bookstore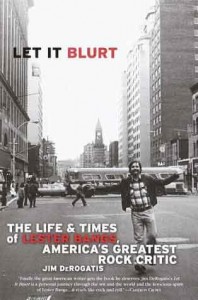 Let It Blurt
The Life and Times of Lester Bangs, America's Greatest Rock Critic
(Broadway Books, 2000)
 Lester Bangs lived fast, died young, and left a beautiful body of work. Jim DeRogatis, himself a gifted writer on rock and roll, knows both of Bangs' worlds–the music and the journalism–and has written an elegy for one of the few critics whose work is worth reading for itself, apart from its subjects.—Roger Ebert
Finally the great American writer gets the book he deserves. LET IT BLURT is a personal journey through the wit and the world and the ferocious spirit of Lester Bangs… DeRogatis brilliantly delivers the long-awaited biography of Bangs with an explosion and a commitment that Bangs himself would have appreciated–it reads like rock and roll.—Cameron Crowe
 LET IT BLURT tells one of the essential rock and roll stories with great affection and panache. Lester Bangs — paradigm, mystery, great writer, tragicomic presence — has been given the biography he deserves. But LET IT BLURT also manages to paint of remarkable portrait of a group of writers inventing a critical genre and immediately having it bought out from underneath them, illuminating the commodification of rebellion which became Bangs' own great theme. A splendid book.—Jonathan Lethem
Lester Bangs pounded the typewriter keys as they were the cavalry coming to the rescue–everything he wrote, from his eulogies of Elvis and John Lennon to record reviews knocked off in the middle of the night–was a forward charge. A performance artist on the page, Bangs turned rock criticism and personal soul-baring into standup comedy. Like Sam Kinison, another unclassifiable American original who died too young, he saw humor as the most honest road to salvation. Bangs' feud with Lou Reed, his editorship of Creem, his Kerouackian writing jags, his own woozy quest to become a punk singer–all contributed to a legend that hid a real-life story waiting to be told. I recognize the Lester Bangs I knew in Jim DeRogatis's biography (a superb piece of detective work), and see sides of him I didn't know were there.—James Wolcott
If the popular media's short attention span caused the work of Lester Bangs to be forgotten, it would be a disaster for the entire culture of rock & roll. With this vivid and carefully researched biography, Jim DeRogatis has done everything in his power to ensure this won't happen.—Mick Farren
To those who knew him, Lester Bangs was a force of nature, "larger than life" and all such biz. For a mere book to capture the full sweep of his mind/body at speed and at rest may be too tall an order, but Let It Blurt is a welcome stab indeed at the whole Lester thing.—Richard Meltzer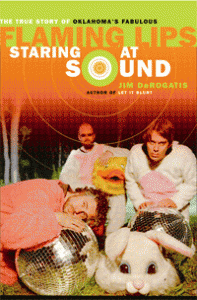 Staring at Sound
The True Story of Oklahoma's Fabulous Flaming Lips
(Broadway Books, 2006)
An engrossing and intimate portrait of the Oklahoma-based psychedelic pop band the Flaming Lips, cult heroes to millions of indie-rock fans.

 Staring at Sound: The True Story of Oklahoma's Fabulous Flaming Lips traces the band's history from its earliest days playing local dives to their current status as cult kings, from ambitious noise rock to ambitious studio symphonies, and from borrowed equipment and menial jobs to state-of-the-art studios and elaborate, exuberant concerts. With enviable access to the band, Chicago-based music critic Jim DeRogatis effectively builds on the band's recent documentary, the Bradley Beesley-directed The Fearless Freaks: The Wondrously Improbably Story of the Flaming Lips, as well as the band's own autobiographical liner notes. He incorporates a wealth of research and represents numerous points of view, remaining accessible and level-headed in the retelling.—Pitchfork
With some rock band biographies, back story is just something to skim en route to later fame-induced decadence. With Oklahoma's Flaming Lips, it's quite the opposite. DeRogatis, the pop music critic for The Chicago Sun-Times and the author of a biography of Lester Bangs, does a nice job rendering the 60's and 70's cultural dust bowl that produced these alt-rock lifers. Whether you find the Flaming Lips' noisy excursions and psychedelically embellished melodies endearing or a bit grandiose, their leader, Wayne Coyne, emerges in "Staring at Sound" as a fascinating character: a mid-American mix of organic capitalist, badgering colloquist and charismatic quester. DeRogatis's account of the band's early road-warrior touring echoes the D.I.Y. pattern of any band crisscrossing the country during the all-ages-club heyday of the late 80's. But his focus on Coyne results in lots of pithy quotations from a guy who had his hometown scene wired from Day 1. With an audience initially made up of Coyne's own working-class family, the Lips moved on to a large and loyal following that still comes to shows assured of big melodies, swirling guitars, bubbles, bear suits and other trip-friendly spectacles.—Laura Sinagra, The New York Times
Their new CD, "At War With the Mystics," and their well-timed biography "Staring at Sound: The True Story of Oklahoma's Fabulous Flaming Lips" by Chicago pop-music critic Jim DeRogatis' marks one more artistic (and perhaps commercial) high point for the band. The Lips are one of the few experimental acts who seem to remember, and care, that the audience is listening. "Mystics" is an invitingly freakish, downright pretty and even moving record: one part early Pink Floyd, one part the Beach Boys' "Pet Sounds" and one part small-town science museum. It features shimmering keyboards, fuzzy psychedelic guitar and everyday found sounds – a creaking door, a beeping alarm – and the songs are tethered together with what sounds like signals from outer space.—Lorraine Ali, Newsweek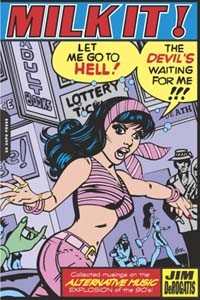 Milk It!
Collected Musings on the Alternative Music Explosion of the '90s
(Da Capo, 2003)
"An electrifying collection on the music of the '90s by the acclaimed journalist and critic who wrote dispatches from the front lines of the Alternative Nation."
 Fans — and detractors — of acerbic pop music writer Jim DeRogatis may want to find a copy of Milk It!, a collection of Dero's rantings and musings on the alternative rock explosion of the 1990s. DeRogatis, whose last book was the thrilling Let It Blurt: The Life and Times of Lester Bangs, America's Greatest Rock Critic, is a heck of a writer. DeRo's disses of the rock music elite — Smashing Pumpkins' Billy Corgan, Courtney Love, Clear Channel Entertainment and tired ol' Rolling Stone editor Jann Wenner — are in the spirit of rock 'n' roll. DeRo says what many writers are afraid to say for fear of falling from grace with magazine editors, labels or the reading public. (What? No more phoners with rock stars?) I don't always agree with the guy, and sure, I'd be scared to sit down to lunch with DeRo, but I relish his candor, passion and spunk. I'm glad he's in print and, in the way of his idol, Bangs, telling it like no other.—Gina Vivinetto, The St. Petersburg Times
DeRogatis is not contemporary rock criticism's great gonzo journalist, gutter poet, or romantic visionary—that is to say, not its Lester Bangs. But he's enthusiastically assumed the role of its most dedicated journeyman and unapologetic gadfly. And when the problem with music is that one has to settle for Stephan Jenkins instead of Lou Reed, that might be a worthy enough charge.—Bob Mehr, The Chicago Reader
"Even though DeRo can sometimes be a DICK, he's only exercising his right to free speech, and ultimately he's got balls and takes on the man—a lot. He can't be bought, and he's got ears."—Courtney Love
"Jim has always taken the 'investigative reporter' approach to any area of exaggerated hype in music culture—which usually means the bigger the egos of those being critiqued, the more fun he has pointing out their blunders. If only he could've been around for the birth of Christ."—Wayne Coyne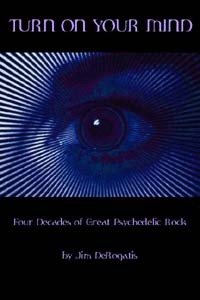 Turn On Your Mind
Four Decades of Great Psychedelic Rock
"A history and critical examination of rock's most inventive genre."
(Hal Leonard, 2003)
"Be you a reefer-smoking square or a fluid-sniffing hipster, a transcendental simp or a wholesome mahoney who gets his kicks from secondary smoke, enlightenment awaits you in this study of what happens when guys without consciousness set out to expand their consciousness." — Nick Tosches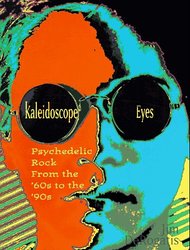 Originally published as Kaleidoscope Eyes by Citadel Underground, 1996.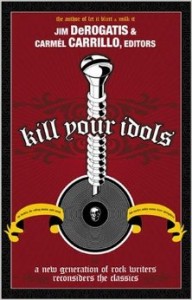 Kill Your Idols
 A New Generation of Rock Writers Reconsiders the Classics
 Edited by Jim DeRogatis and Carmél Carrillo
 Thirty-five of the best rock writers of Generations X and Y each weigh in on an album that's universally considered "a classic," but which they think suck
 (Barricade Books 2004)
 A gang of Gen-X and -Y music critics slaughter sacred cows like Born to Run, Rumours, and Sgt. Pepper's ("a bloated and baroque failed concept album")—with hilarious results. Guaranteed toinfuriate any boomer rock fan.—Entertainment Weekly
Sometimes incisive, occasionally enraged and other times infuriatingly muddle-headed, "Kill Your Idols" will promote screaming, either in agreement or disagreement… But it's only rock 'n' roll, right? You bought the albums. Now destroy the thing you love.—The Los Angeles Times
Kill Your Idols is a fun, frustrating gathering of attacks on some of rock's most revered albums. Slaughtered sacred cows range from reliables like Sgt. Pepper and Pet Sounds to the recently anointed OK Computer and Yankee Hotel Foxtrot, with a few head-scratchers (why Ram?). Mostly, the essays are gleeful rants that give the canon, and music writing itself, several much needed blows to the ego. But the fact that only two of the 34 records are by nonwhite musicians, and one, Public Enemy's It Takes a Nation of Millions to Hold Us Back, is treated with a malicious, problematic screed, suggests that the editors should have put more thought into choosing their targets. Still, what's an identity crisis without a little pain? —Amy Phillips, The Village Voice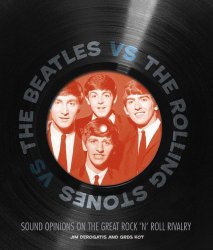 The Beatles vs. The Rolling Stones
Sound Opinions on the Great Rock 'n' Roll Rivalry
(Voyageur Press, 2010)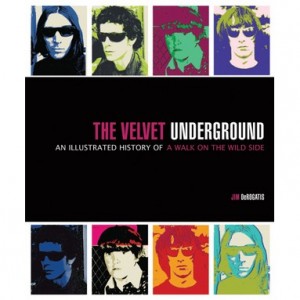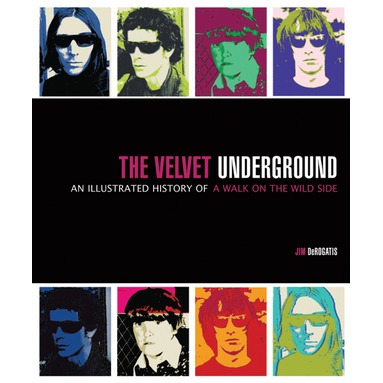 The Velvet Underground
An Illustrated History of a Walk on the Wild Side
(Voyageur Press, 2009)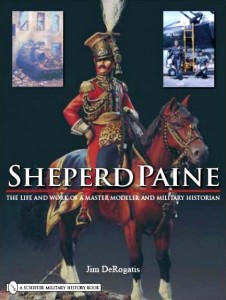 Sheperd Paine
The Life and Work of a Master Modeler and Military Historian
(Schiffer, 2008)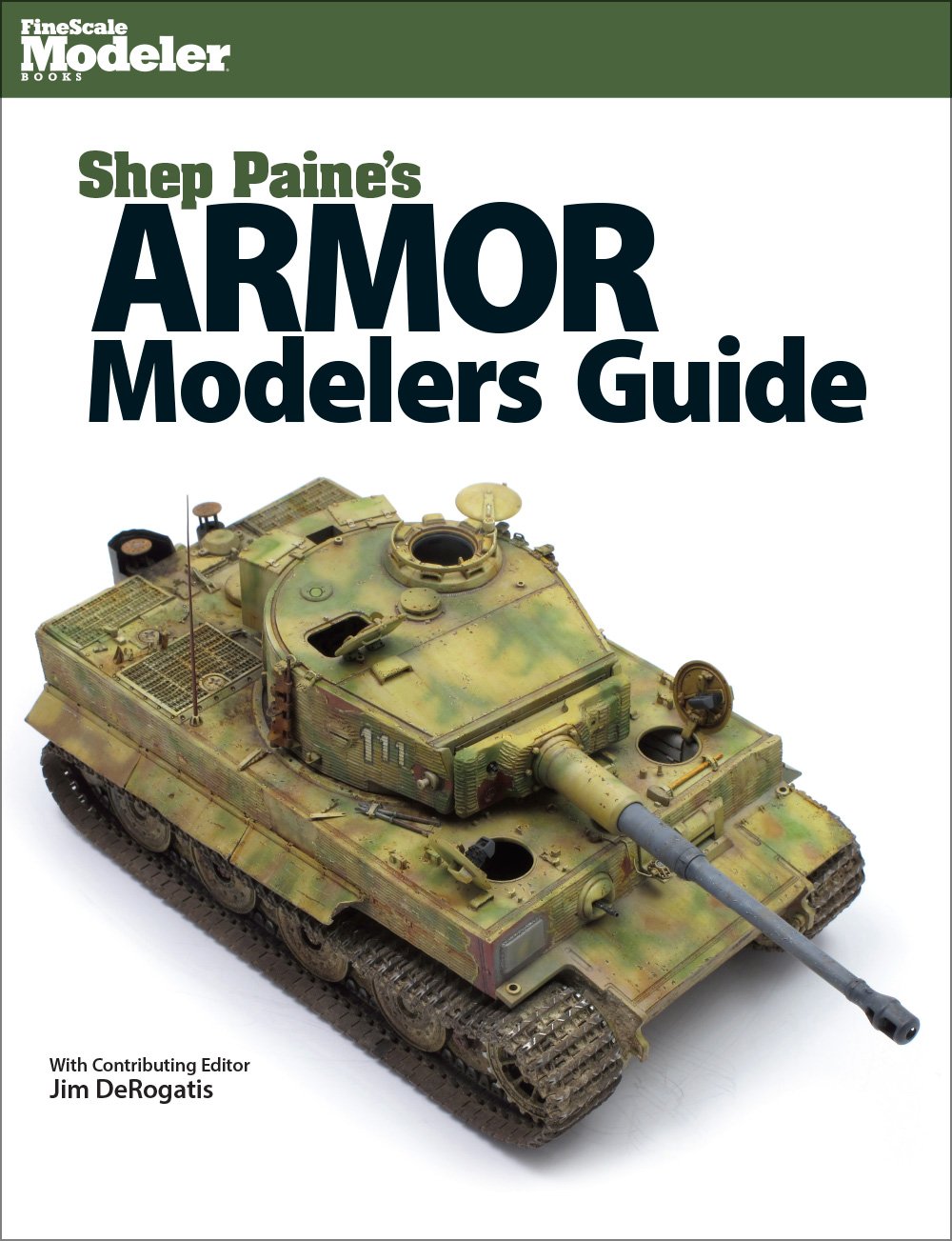 Shep Paine's Armor Modelers Guide

(Kalmbach, 2016)