SXSW Day One: Anders Smith Lindall reports
By Jim DeRogatis
March 17, 2010 4:19 PM
Sun-Times contributor Anders Smith Lindall reports:
Wed., 12:25 p.m.: It used to be that South by Southwest didn't really get rolling until Thursday. Wednesday's sparser schedule of official evening showcases and unofficial day parties made it a transition day; this was the time to arrive and get settled, maybe catch a few bands, dip your toe in the pool before diving right in.
No more. With the success of SXSW expansion into film and interactive portions that precede the music conference and festival, the city is already jammed when us rockers arrive. My flight touched down shortly after 10 on Tuesday night; by 11 I'd encountered my first block-long line outside a downtown venue. The circus is always in town.
I did manage to navigate that line in time to catch the first-ever performance from Jakob Dylan and Three Legs, the rock scion's new band that features Neko Case, Kelly Hogan, and Case's sidemen Barry Mirochnick (drums), Jon Rauhouse (steel), Tom Ray (bass) and Paul Rigby (guitar).
SEE INSIDE FOR MORE -- UPDATED 4:20 P.M.
Their set emphasized new tunes from Dylan's forthcoming album Women and Country (due April 6). They were mostly soft-spoken ballads and dusky dirges, more of a piece with his recent solo material (like "Something Good This Way Comes" and "Evil Is Alive and Well," which they played late in the set) than older Wallflowers radio fare (a shambling "Three Marlenas" was the closer).
Due to very poor sound--a wise guy next to me said the venue, dubbed the Pure Volume House, might be better named the No Volume House--I'll withhold further comment on the subtleties of the songs. But I can say that using Case and Hogan exclusively to sing harmonies is a little like buying a Ferrari and then only driving it to the store.
SXSW-goers will get another chance to catch this crew at a party hosted by celebrity chef Rachael Ray on Saturday; Chicagoans can see them at the Park West on April 26.
Now we leap into SXSW proper, with unofficial shows cranking up already at downtown clubs, and panel discussions underway at the convention center. Jim DeRogatis and his Sound Opinions partner Greg Kot will moderate a group interview with the members of Cheap Trick in one such session later today.
Check back regularly over the coming days for updates from me and Jim on what we're seeing, hearing and digging from the music world's Spring Break.
Update 4:20 p.m.: With hundreds upon hundreds of showcasing performers in town, surely some of them--many of them--must be lame. But I haven't seen any yet.
My afternoon started with Anni Rossi. She's a Chicagoan, but just as Tom Waits once said he never saw his hometown until he stayed away too long, sometimes you see local bands afresh when your perspective is shifted just by being in another place.
In Rossi's case, I've liked her recordings well enough before now, but this set was a barn burner. Playing at a little bar called the Mohawk, she held her viola slung over her shoulder like a guitar and strummed it hard, squeezing from four usually refined strings a nasty snarl worthy of any garage band's six-string attack.
This squalor meshed and mingled with a brawny, stomping rhythm section and often a keyboard playing an array of plasticky blips and bloops straight out of Super Mario Brothers. And over it all she sang, in an unhurried midrange, the sort of smartly barbed lyrics heard on her '09 record Rockwell.
Rossi has a new album coming from the 4AD label later this spring, and if this gig is any indication, it holds the promise of pushing her to a well-deserved new level of notoriety.
Next up was the Morning Benders, a fresh-faced five-piece from Berkeley that's fronted by the brothers Chris and Jonathan Chu. That Chris sang an unaccompanied bit of the Zombies nugget "The Way I Feel Inside" as an impromptu vocal check gives you a sense of where they're coming from, though without the diamond-cut concision. With its doo-wop harmonies, looped passages and culminating guitar-fuzz freakout, a song like "Excuses"--the first cut on the band's just-released album Big Echo (Rough Trade), and the last one they played on the outdoor stage at Emo's--shows that their roots run even deeper, while their cut-and-paste approach is thoroughly post-modern. (They'll be at Schubas April 12.)
Though I neglected to note it in my initial post, I'd be remiss to mention a fine set I caught late last night by Eisley. They followed Jakob Dylan, Neko Case & Co. to the stage at the Pure Volume House, and their signature multi-part harmonies suffered as a result of the very sketchy sound (see notes on Dylan above). But on the instrumental side, with beats crackling and twin guitars tangling, the DuPree family's brainy rock was in midseason form.
Anders Smith Lindall is a Chicago freelance writer and longtime contributor to the Sun-Times.
SXSW 2010: Day One, the panels
By Jim DeRogatis
March 17, 2010 5:45 PM
From its humble beginnings as a regional music festival launched in the Texas state capital in 1987, South by Southwest has grown to become two weeks embracing three of the most respected and most-buzzed conferences worldwide--the film and interactive components were added in 1994--drawing tens of thousands of people from around the globe and generating an estimated $110 million annually for the Austin economy.
The music festival remains SXSW's largest component: It is the music industry's mix of Spring Break and the Cannes Film Festival, with 1,400 bands playing in 80 venues over the next five nights. But this year, attendance of some 10,000 at the interactive fest nearly rivals the 12,000 attending the music fest, though there also are tens of thousands of non-registered music fans, many from Chicago, swarming into the city to crash the official showcases or attend the non-sanctioned parties.
The interactive festival was winding down on Wednesday just as the music fest was starting up. But the two most interesting panels I caught at the Austin Convention Center on day one blurred the line between where interactive ended and music began.
<![if !vml]>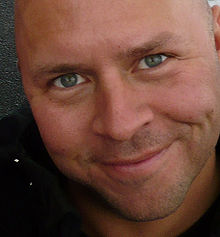 <![endif]>
Derek Sivers
Things kicked off with a session entitled "Successful SXSW: The Tao of the Conference," hosted by Derek Sivers, who is best known for launching the CD Baby Web site to help up-and-coming bands establish themselves and distribute their music outside the traditional record label system. Sivers sold the site to Disc Makers in 2008 for $22 million and moved on to other Internet ventures, but he used his talk to pass on advice for musicians who have come to Texas to be heard, but are struggling to stand out amid the sometimes overwhelming din of so many bands.
A musician himself, Sivers didn't pull punches: Musicians are used to getting in front of a microphone and sharing their lives with the world, he said. To make connections at a conference such as SXSW, the trick is to listen more than to talk.
"People are the reason you paid so much money and came so far," Sivers said. "So indulge deeply."
Drawing from his own wealth of anecdotes as well as showing brief video interviews with other musicians with wisdom to impart, Sivers made the case for even the most introverted artists pretending to be extroverts--at least for a couple of hours a day during the conference--in order to meet people who may be able to help their careers down the line. This is best accomplished not by hyping themselves, he said, but by listening.
"Be interested. Listen deeply. And ask questions like a reporter," Sivers said.
I like that last part, as much as I like the idea of a New Media Guru lauding the timeless techniques of good old-fashioned dead-tree media.
<![if !vml]>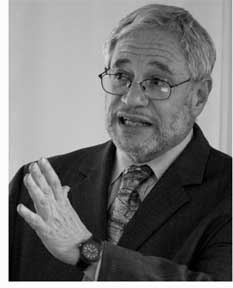 <![endif]>
Ray Beckerman
Much less inspiring and much more sobering and frightening was a talk later in the day called "Recording Industry vs. The People" by New York attorney Ray Beckerman, who also writes a blog by that name.
Set in one of the smaller, darker and colder rooms off the beaten track in the vast convention center, the session was both Orwellian and Kafkaesque as Beckerman described the unrelenting legal campaign that the Recording Industry Association of America has waged against its own customers in a crusade to stop what it calls illegal downloading. (The paid lobbying group of the major-label recording industry, the RIAA has filed about 40,000 of these cases to date, and it shows no signs of relenting.)
While the goal of stopping copyright infringement may be noble, Beckerman portrayed a battle that has been anything but, with judges who have little to no understanding of the technology at the heart of the cases they're hearing; RIAA investigators and attorneys using thuggish, bullying tactics that seem intended more to harass people than to get at the truth or recover legitimate damages; a hit-and-miss approach to suing people who pay for an Internet connection rather than providing solid proof that anyone at that ISP address actually committed illegal file sharing ("More than half of the cases that have been brought have been against people who did not commit copyright offenses," Beckerman claimed) and most of all fines that are far out of proportion to the actual damages.
Beckerman estimates that the actual cost in lost royalties to an artist from someone illegally downloading a song that sells on iTunes for 99 cents is about 35 cents, since that's the average royalty the artist would have received from the record company for that tune. But the RIAA seeks and secures fines that range from a minimum of $750 to a maximum of $150,000 per song--or 2,200 to 450,000 times the actual damages.
Also frightening is the fact that President Obama's Justice Department has so far filled six of its top slots with attorneys who worked for the RIAA and brought lawsuits against alleged illegal downloaders--dashing hopes that the administration might take a more forward-looking approach to the issue and bring some sanity to the problem of copyright infringement in the digital age.
For all of the bad omens, however, Beckerman ended his talk on a positive note. "We are entering a golden age of music," he said, "where more people can make a living [making music]. The age of platinum acts selling millions of records is decreasing, but the age of artists eking out a living by selling their art is increasing," via the possibilities for the Net making micro-payments to artists digitally distributing their own work.
That certainly is the hope of every band I'll see tonight, or throughout the rest of SXSW 2010.
SXSW 2010: Night one, the showcases
By Jim DeRogatis
March 18, 2010 12:59 AM
News of the death of Alex Chilton cast a pall over the first night of showcases at the South by Southwest Music Festival, with word spreading instantaneously via Twitter and cell phone text messages. But the music went on, as it always does.
My plan had been to start the night with Plastic Crimewave Sound. Though I usually make a rule of avoiding Chicago bands in Austin, since I can see them at home any time, Steve "Galactic Zoo Dossier" Krakow never fails to deliver a splendid psychedelic bacchanal, and I figured he'd really rise to the occasion for SXSW. Alas, writing up the news about Chilton caused me to miss their set at a club called Rusty Spurs (how very Texas), but I did see the group that followed them, the San Diego quintet Blessure Grave.
<![if !vml]>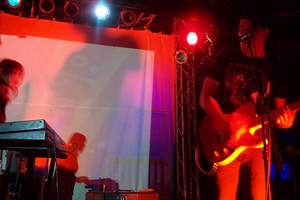 <![endif]>

Blessure Grave
The group's mournful, synthesizer-driven dirges seemed appropriately funereal at the moment, and their hypnotic trance grooves proved that it isn't only bands from Brooklyn that are mining the Joy Division sound. (SXSW posts sound clips from almost every band playing the festival; sample Blessure Grave here.)
<![if !vml]>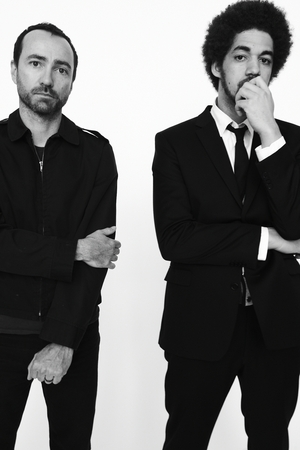 <![endif]>

Broken Bells
My next stop was the much-buzzed showcase for Broken Bells at Stubb's. Irresistible on their recent self-titled album, I was curious to see if the gorgeous melodies created by unlikely collaborators James Mercer of the Shins and superstar producer Brian Burton, a.k.a. DJ Danger Mouse, would translate in concert.
Hiding in dark, moody lighting beneath impressionistic video projections, the duo and a drummer expertly recreated the lush pop of "Sailing to Nowhere" and "The Ghost Inside." But Stubb's hardly was the ideal venue for the group. The sound was excellent, but the venue--really a fenced-in sloping dirt bowl behind a barbecue joint, open to the elements and supremely uncomfortable--didn't allow listeners to really lose themselves in the cascading waves of sound. (The club is run by Charles Attal, one of the "three Charlies" behind Austin-based Lollapalooza promoters C3 Presents.)
From there I hit a lovably dumpy dive called Elysium (apparently a goth dance club when SXSW hasn't taken it over) to catch up with old favorites the Muffs.
<![if !vml]>
<![endif]>
The Muffs
Powerhouse frontwoman Kim Shattuck formed the group in 1991, and it had a brief moment as a buzz band when it was signed to Warner Bros. during the alternative-rock feeding frenzy. But the Muffs' ultra-melodic yet raw and raunchy garage rock always was too good for mainstream consumption, to say nothing of modern rock radio play.
Now a trio, the Muffs are gearing up to release a new album. And as evidenced by a rollicking SXSW performance, nearly two decades on, they remain an undeniable grungy good time.
<![if !vml]>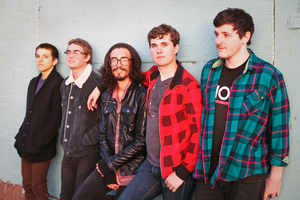 <![endif]>

Surfer Blood
Finally, the word of mouth about the West Palm Beach, Fla. quintet Surfer Blood compelled me to end the night at their showcase at a truly dreadful, cramped and poor-sounding joint called Wave Rooftop.
Blame it on my poor choice of which venue to see the band at--they reportedly hold this year's record for the most showcases by any band at the festival: an astounding 12 at different times and in different clubs, including sanctioned and unofficial gigs--but live even more than on their recent debut album "Astro Coast," Surfer Blood came off as yet another generic indie noise-rock band desperately wishing it could be the Pixies. (Hear for yourself here.)
Overall, a less than overwhelming start for this year's musical experiences. But there are three more days and nights and at least three dozen more bands to go.
SXSW 2010: Smokey Robinson's keynote address
By Jim DeRogatis
March 18, 2010 1:11 PM
<![if !vml]>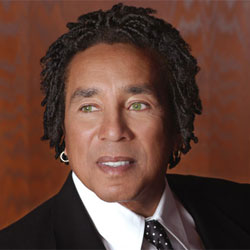 <![endif]>
The music industry is in the midst of the biggest technological revolution since Thomas Edison invented the phonograph in 1877, and almost everything about the business is undergoing radical change. But attendees at its biggest annual gathering wouldn't necessarily know that from the keynote addresses at the last few South by Southwest Music Festivals, which have spotlighted venerated elders and musical heroes of the past rather than current movers and shakers.
Last year, Quincy Jones reveled in self-serving anecdotes about his storied history, and this year's keynoter, Motown great Smokey Robinson, didn't seem to hold much more promise for addressing this historic and unprecedented upheaval. A much better choice for the agenda-setting address would have been producer Brian Burton, a.k.a. DJ Danger Mouse, whose new project Broken Bells already is one of the big hits of the fest, and who also has scored with Gnarls Barkley and Beck and had his own dramatic run-in with the changing industry via his controversial "Grey Album" mash-up of Jay-Z and the Beatles.
But the 70-year-old Robinson, a former Motown vice-president as well as leader of the Miracles and a prolific solo artist, turned out to be a welcome surprise. Famous for his warm and winning personality, he not only was much more charming than Jones or 2008 keynoter Lou Reed, but in between the usual stories of a celebrated career, he imparted a fair amount of timeless wisdom equally relevant to an up-and-coming young gospel singer or an aspiring composer of cutting-edge electronic sounds.
Interviewed by veteran rock critic and fellow Detroit native Dave Marsh, Robinson started by recounting his first chance meeting at age 16 with Motown founder Berry Gordy. Intrigued by two of the original songs Robinson sang at a failed audition, Gordy asked if he had any others. Smokey "just happened" to have a notebook filled with 100 more tunes that he'd been writing since age five.
"There are no new artists," Robinson said. "Show me somebody making a record at 15, and they've been doing it since they were five... I just wanted to do it so bad, so desperately. I was just a kid who loved music and always had."
Gordy criticized many of Robinson's early songs, which the author now admits often had a first verse that had nothing to do with the second, and a bridge that was completely different from both. Robinson learned from those critiques--he would go on to write a string of classics, including "Shop Around," "My Guy," "Get Ready," "The Tears of a Clown" and "Cruisin'"--and recalled that Gordy told him, "I liked that I could not discourage you."
Now an independent artist recording for his own Robso Records label--he released the album "Time Flies When You're Having Fun" last year--the relentlessly optimistic and upbeat singer was asked by Marsh what advice he would give to younger artists.
"First of all, thicken your skin." Show business is full of peaks and valleys, and artists have to accept that, Robinson said. Secondly: "Try not to take yourself so seriously." Too often, successful artists have the attitude that "now that the world knows me, they cannot possibly do without me. Don't kid yourself!"
These are words that every musician in Austin this week should heed, from the struggling busker on the street corner to the biggest headliners. But honing to the sort of humble attitude that Robinson evinces doesn't rule out ambition.
Noting that he's been listening to a lot of classical music lately, Robinson said, "That music is 300 to 400 years old, and we're still listening to it. I wanted to be a Beethoven. I wanted to be a Mozart. I wanted to be the kind of artist people are still listening to in a hundred years, whatever apparatus they're listening on."
It's a goal the star has achieved, and in the end, it has nothing to do with technology.
Before Robinson's talk, the young Texas jazz chanteuse Kat Edmonson played a sleepy set of sub-Norah Jones cabaret standards. And SXSW creative director Brent Grulke said some touching words about Alex Chilton, dedicating the music festival to his memory, and noting that conference organizers were trying to arrange a benefit for the late musician to replace the Saturday night slot where his band Big Star had been set to perform.
SXSW Night One: Anders Smith Lindall reports
By Jim DeRogatis
March 18, 2010 1:24 PM
Sun-Times contributor Anders Smith Lindall reports:
It's been a day and a half in the SXSW zoo. I haven't been run over by a pedicab, doused in patchouli, arrested, sunburned or succumbed to gout. In other words, in the big picture, all is well.
On the music front, as always here, you win some and lose some. I wasted 40 minutes on Denmark's Choir of Young Believers without catching a single song; instead I stood around through the end of the act before them--a petite Parisienne named Seko who played ukulele, sang about loving you as much as peanut butter, and was just as deadly twee as you imagine--and was treated to 20 minutes of the Young Believers tuning and checking sound before I split. On the plus side, I'd never come across Austin's Strange Boys but liked their woolly jangle, all sloppy, scrawled Chuck Berry riffs, ragtag guy-girl vocals and even a chugging sax.
In short, when trying to grasp and enjoy an event of such daunting scale, plenty of hoary tropes apply: Go with the flow. Follow your nose. Be in the moment. So an overflow crowd kept me from catching Nas with Damian Marley, and a few songs of Spoon seen from the back of a dense, milling throng left me cold. That only meant I lucked into hearing a last few songs from Via Tania, the buzzing art-pop project of adopted Chicagoan Tania Bowers. Shutouts at jam-packed gigs by Surfer Blood and Billy Bragg found me ending the night with Flying Lotus, nom de turntable of Steven Ellison, whose rolling blend of warm funk, hip hop and spongy dub stoked and chilled onlookers in a low room hung with red velvet and lit only by flickering images--outstretched arms, foliage, a drill bit entering a skull--projected on an overhanging screen.
Among other notable acts I saw later Wednesday:
Ezra Furman. It wouldn't be technically wrong to say this young Evanston-raised songwriter and his band the Harpoons continue to refine their sound, but it would give you the wrong idea: There's nothing refined about Furman's strangled yawp and his backers's sound that's commonly compared to the Violent Femmes. The band is best just when it seems ready to run clear off the rails; playing a late-afternoon party gig, they frequently toed the line between chaos and control. And the bratty brainiac songwriter keeps turning out funny, snotty, confounding lyrics: What seemed to be just another song about a lovers' spat turned out to be a philosophical manifesto on reasons for living; conversely, a tune he said was about manifest destiny was really just a jam on chasing a girl.
Everybody Was in the French Resistance ... Now! Eddie Argos's main gig, Art Brut, is a joke band only in the same sense as the Ramones: they tweak everything and take nothing too seriously, most assuredly including themselves. Playing its first U.S. gig, the same did not hold true for this new Argos side project, which he called "a concept band" that writes answer songs to pop hits. Trouble is, since the French Resistance responses bore no evident resemblance to the Kanye West, Michael Jackson and other songs they answer, each required a tedious spoken set-up. Worse, their components are nothing but rudimentary keys and guitar, a cheap-sounding drum machine and mountains of snarky attitude. I have loved Art Brut live, but this was a stinker.
Freddie Gibbs. For hip-hop fans, this year's SXSW schedule is heavy on established names like DJ Quik and Chamillionaire, but with the exception of the Gary-born MC Gibbs, I'm not hearing much buzz around new rap talent. Though fighting a sketchy mix that muddied his rhymes and watered down what should have been punishing bass, Gibbs's his wit still sparkled. I caught rapid-fire references to Boondocks and the Boston Celtics on one track; another incorporated a sped-up, squeaky sample of Sufjan Stevens's "All Things Go." It worked without a hint of novelty or smugness.
Basia Bulat. The Toronto singer, songwriter and guitarist's new disc Heart of My Own (Rough Trade) has already scored at least one TV commercial, but don't write her off as mere ad wallpaper. Playing the inside room at Emo's with a drummer and violist, she brought traces of Cape Breton and Irish sounds to her sturdy folk-rock, and the soulful vibrato vocal she wields on album stood up to live scrutiny too.
Bomba Estereo. This Colombian quartet was all about the beat. Its rhythm section pumped up Afro-Latin cumbia with dance-floor urgency and rock power; an effects box gobbled guitar lines, spitting them back as space-laser screams. At the center of this storm was Liliana Saumet, a relentless piston in a sparkling silver pants, pink jacket and shining grin who rapped, sang, shouted, bounced, kicked, danced and dominated the stage with sheer charisma and force of will.
Anders Smith Lindall is a Chicago freelance writer and longtime contributor to the Sun-Times.
SXSW 2010: Day two: The Justice Department on the Ticketmaster/Live Nation merger (and other Obama music initiatives)
By Jim DeRogatis
March 18, 2010 5:49 PM
For the second time since news of the merger of giant national concert promoters Live Nation and monopolistic ticket brokers Ticketmaster was first announced 14 months ago, the heads of those two companies, Michael Rapino and Irving Azoff, declined to speak to the assembled music industry at South by Southwest about the alleged benefits to the consumer and the music world.
However, Assistant Attorney General Christine Varney, the Obama administration Justice Department official who approved the settlement paving the way for the merger in late January, did travel from Washington, D.C., to take part in a panel discussion Thursday afternoon entitled "Creative Capitol: Music, Culture and Policy under Obama."
<![if !vml]>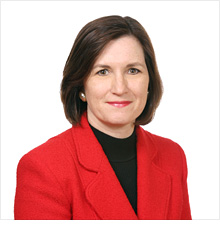 <![endif]>
Christine Varney
As she did at the press conference announcing the settlement, Varney said the Justice Department initially held that the merger was not permissible under federal antitrust laws. But negotiations over the last year with Live Nation and Ticketmaster resulted in several concessions, including Ticketmaster selling off several small parts of its ticketing business to competitors and "behavioral remedies" that Justice will oversee to guard against anti-competitive practices.
"We've tried to create some competitive ground for you all to move around the industry and see to which extent you can shake things up," Varney said. And she urged independent promoters, musicians and consumers to voice their opinions if they oppose the merger--comments are being accepted until May 3--and to communicate thereafter with Justice's compliance committee, making them aware if the newly merged Live Nation Entertainment isn't playing fair.
When this reporter pointed out that during two congressional hearings on the merger last year, and in hundreds of news accounts about the merger since the settlement was announced, not a single person who does not have a financial stake in the merger sang its praises--and that, in fact, opposition was nearly unanimous, ranging from Sen. Orrin Hatch (R-UT) on the right to Sen. Charles Schumer (D-NY) on the left--Varney stayed on point, reiterating that Justice would be watching closely, and that it effectively was constrained in blocking the merger only where it violated antitrust laws, in the area of ticketing, which it claims has been addressed.
Questioned about the relevance of the Supreme Court ruling in 1948 in "The United States vs. Paramount Pictures," which decided that movie studios could not also own movie theaters and the companies that distribute their films, Varney said it was not relevant, and once again repeated that the only troublesome area in the merger had been ticketing.
Chicago Tribune rock critic Greg Kot then asked why Justice hadn't considered pushing Live Nation to sell off its management division, since the new mega-corporation will manage artists, book their concerts, own the concert venues, sell the tickets, sell the merchandise and concessions and in some cases act as the record company. But Varney continued to stress that ticketing had been the only issue Justice could address.
Finally, asked whether President Obama's friend and Harvard roommate Julius Genachowski, a former member of the board of directors of Ticketmaster and now head of the Federal Communications Commission, or Hollywood superagent Ari Emanuel, brother of Obama chief of Staff Rahm Emanuel and a member of the board of Live Nation, had written letters in support of the merger, Varney said, "Not that I'm aware of."
Other members of the panel spoke about far less troubling aspects of the Obama administration's stance on music and the arts.
Austin Schlick, general counsel for the FCC, addressed the broadband plan presented to Congress on Tuesday, a 10-year initiative to vastly expand Americans' access to the Internet.
Rachel Goslins, the director of the documentary "'Bama Girl," Executive Director of the President's Committee on the Arts and the Humanities, and, coincidentally, Genachowski's wife, lauded a wide range of administration initiatives to foster the arts, including a new attitude at the National Endowment for the Arts.
And then there was the Windy City's own Tim Tuten, co-owner of the Hideout, former Chicago Public Schools teacher and now Director of Events for the Office of Communications and Outreach in the Department of Education, who hailed the administration's support for arts education and efforts to expand programs that have been cut in school systems across the country, especially in poor communities.
SXSW 2010: Night two, the showcases
By Jim DeRogatis
March 19, 2010 1:09 AM
Musically, round two of SXSW was much stronger for me, with the highlights starting during the day in the convention center with a group called Mumiy Troll, a long-running Russian rock band formed in Vladivostok in 1983 by the insanely animated vocalist and songwriter Ilia Lagutenko.
<![if !vml]>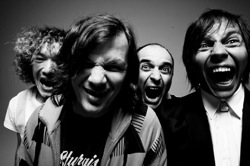 <![endif]>

Mumiy Troll
The SXSW Web site had reported that the quartet had canceled its festival appearance and a short U.S. tour after Laguteno underwent an emergency appendectomy earlier this month. But there he was on stage, bounding about like a madman as the group churned out rollicking New Wave grooves behind him, bringing to mind a looser, more joyful version of early Public Image, Ltd. crossed with Devo.
Apparently, after years of surviving bans and persecution by the local Communist party, a burst appendix was nothing. (You can hear a sample of Mumiy Troll's joyful noise here.)
My evening started out back at Stubb's, which once again proved to be the wrong venue for the sublime Canadian rockers the Besnard Lakes, though the group fared slightly better in conveying the lush subtleties of its sound in that big dirt bowl than Broken Bells did on Wednesday.
<![if !vml]>
<![endif]>
The Besnard Lakes
Led by the husband-and-wife team of guitarist-vocalist Jace Lasek and bassist-vocalist Olga Goreas, the band has crafted one of the most winning albums so far this year in the stunning "Besnard Lakes Are the Roaring Night." As they delivered its gorgeous harmonies and haunting melodies while enveloped in clouds of stage fog, I couldn't help but think how incredible the group will sound when it performs a free show in Millennium Park on May 24.
<![if !vml]>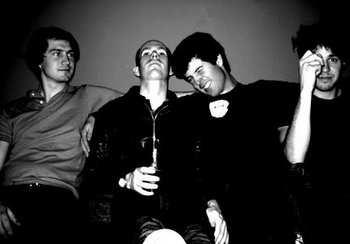 <![endif]>
The Soft Pack
Next up at Stubb's was the San Diego indie-rock quartet the Soft Pack, formerly the controversially named Muslims. The band's deceptively simple but rhythmically driving sound was better suited to the backyard frat party vibe of the venue, but it remains to be seen whether it holds up on record.
From there it was on to a club called Mohawk, where the restrained but powerful post-rock of the Madison quartet All Tiny Creatures evoked Tortoise jamming on Philip Glass. (Listen here.)
<![if !vml]>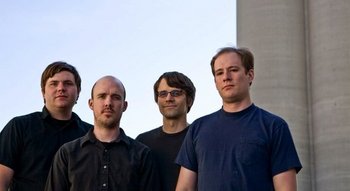 <![endif]>
All Tiny Creatures
Even better was the enigmatically named jj, which has released two widely acclaimed albums of seductive electronic pop music. On record, jj is the Swedish duo of Joakim Benon and Elin Kastlander, but onstage at SXSW, Kastlander performed alone with digital backing tracks, bringing to mind a more cheerful and more zaftig version of Velvet Underground chanteuse Nico, with a laptop replacing the harmonium.
<![if !vml]>
<![endif]>
Elin Kastlander
My final highlight of day two came at a showcase for the stoner-rock record label Small Stone at the club Encore courtesy of the Los Angeles band Sasquatch, which sounds exactly like you would want a band named Sasquatch to sound.
<![if !vml]>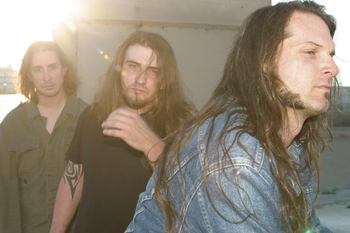 <![endif]>
Sasquatch
Led by the whiskey-chugging, fire-snorting guitarist and vocalist Keith Gibbs and featuring former Chicagoan Jason Casanova on bass, the group's sound is rooted in classic Grand Funk Railroad, in terms of the arena-rocking melodies, though it's augmented with all manner of twisted psychedelic/metal chaos, from hints of Monster Magnet to touches of Blue Cheer. You can sample it here--and be sure to turn it all the way up for maximum impact.
SXSW Night Two: Anders Smith Lindall reports
By Jim DeRogatis
March 19, 2010 12:53 PM
Sun-Times contributor Anders Smith Lindall reports:
I suppose it can't be called an epiphany if I knew what I was in for. Whatever the phrase, the raw beauty and intense emotion of Thursday night's performance by the New York songwriter Sharon Van Etten felt like a spiritual experience. For me, it's hands down the high point of SXSW so far.
Fittingly, it happened in a church. Van Etten stood by the altar at St. David's, a modest old Episcopal sanctuary just up the hill from the mad carnival of 6th Street; here a few dozen rapt converts crowded in the front pews. Playing a hollow-bodied red Gibson guitar, she struck stark chords and let them ring or picked arpeggio patterns that glittered as they rolled. They perfectly framed her voice, which floated from a confessional whisper to a tingling ghostly cry.
Van Etten is a relative newcomer to performing and recording with just one album to her credit, last year's self-released disc Because I Was in Love. It's an intimate, inner-directed set of songs as the title implies, and it provided most of the fodder for this set. The standout track is the devastating, gorgeous "Much More Than That"; here its painstaking lyrics came to the fore--"I sigh and then I frown/I write this moment down/'Cause I cannot paint pictures with my tongue"--but the real magic was in Van Etten's ethereal, wordless sighs between each verse.
It's hard to imagine that she'll be playing for tiny clutches of listeners much longer. She certainly shouldn't be. Whether your tastes run to Sixties folkies Sandy Denny or Joan Baez, the pointillist intensity of Low or the elegant string-laden art-rock of The Velvet Underground and Nico, seek out Sharon Van Etten.
...
Elsewhere Thursday, I saw some new artists, checked out a few familiar faces, and caught several foreign bands.
That last strategy is always a good idea at SXSW, since it's never easy knowing when or even if those acts will make it to Chicago. One that will--for two sold-out shows at Lincoln Hall on April 8--is the xx. The minimalist Brit trio drew an only-at-SXSW throng that mobbed a tented stage outside the Mohawk nightclub, and everywhere else within earshot.
Having come to know the hushed songs of guitarist Romy Madley Croft and bassist Oliver Sims through bedroom listening, this was a jarring new context for me as a fan; given the band's shaky start last night, they seemed uncertain too. But the black-clad pair and their third wheel, Jamie Smith, soon found the groove--literally, thanks to the sharp rhythms Smith cut from his drum machine. I still prefer the album's spotless icy cool, but the band's ability to approximate that spell in such an inhospitable setting is no small credit to them, and it's a trick that with experience they seem certain to refine.
Also from foreign shores I saw successive sets from the Icelandic singer Olof Arnalds and Danish rock collective Efterklang. Arnalds has played with Mum and recorded with Sigur Ros, but at the grand, historic Driskill hotel with listeners sitting cross-legged on the floor, she presented a much different face of Norse music than those acts' elfin weirdness. Arnalds is classically trained; she played lilting traditional songs and originals on acoustic guitar and sang in a chirpy high register, while a sideman added piano, vocal harmonies and guitar of his own. The pair closed with covers of Springsteen's "I'm on Fire" and, in a nod to their host city, Jimmie Dale Gilmore's "Tonight I Think I'm Gonna Go Downtown."
An hour later and across the street, Efterklang used layered vocals and an array of instrumentation--adding piano, flute and trumpet to the standard guitar, bass and drums--to craft spacious, rock songs. They felt dramatic but never bombastic, evoking a host of contemporaries who hail from another North Sea shore, Scots like Frightened Rabbit, Camera Obscura and naturally Belle and Sebastian.
Fans of the wave of psychedelic indie pop that crested in the late Nineties will welcome the return of both Jason Lytle (ex-Grandaddy) and Miles Kurosky (Beulah). I saw Lytle at a late-afternoon gig with Admiral Radley, a new project he shares with Grandaddy drummer Aaron Burtch plus members of Earlimart, while Kurosky and a five-piece band played under his name at Emo's.
From what I heard last night, these guys aren't breaking much new ground. As guitars, piano and synths surge, Lytle's still singing sad-eyed, wry stories of life amid the meltdown of post-millennium California. Kurosky's comeback includes the same stabbing keys and blaring brass that marked Beulah and so many other third-wave Elephant 6ers.
Not terribly dissimilar in sound but more exciting to these ears was Surf City, a power-pop four-piece from Auckland. They fit comfortably in the Kiwi rock pocket defined by bands like the Clean, with maybe a bit more grit in the guitars.
The 'new' category included Avi Buffalo, a quartet from southern California with a self-titled debut coming soon from Sub Pop. They're very young--front man Avigdor Zahner-Isenberg can't yet legally drink in the bar where he played--and so still figuring out how to put the songs across live. But they have potential, and their sound isn't following any current trend; think of Yo La Tengo's quieter, bossa nova-tinged pop tunes and you're in the Avi Buffalo ballpark.
Having heard all that quiet, arty reflection, I was glad to get a greasy plate of Southern blues-rock from the Hill Country Revue. A side project of North Mississippi All-Stars members Cody Dickinson and Chris Chew, plus members of the blues-royalty Burnside lineage, this quartet packed a heavy wallop in a ZZ Top or Allman Brothers vein. The set was dedicated to a pair of Memphis music legends lost recently and much too soon--Cody's dad the producer and piano player Jim Dickinson, and the man they called from the stage "Mr. Chilton."
SXSW 2010: Day Three, the panels
By Jim DeRogatis
March 19, 2010 4:46 PM
Though there were fewer newsworthy sessions during the penultimate day of panel discussions at the Austin Convention Center, I did catch two entertaining roundtables entitled "Meet the New Soul -- Same as the Old Soul?" and "Music Journalism in the Post-Print Era."
As with so many of these sessions attempting to answer open-ended questions, nothing much was decided during either talk. But the soul panel was notable for an appearance by Chicagoan Che Smith, better known as rapper Rhymefest, who pretty much stole the show.
<![if !vml]>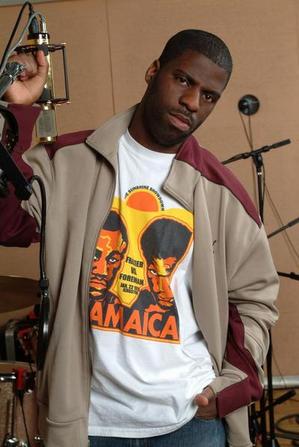 <![endif]>

Rhymefest
The other panelists--Bob Davis of SoulPatrol.com, New York attorney Judy Tint, Claudette Robinson of the Miracles and Motown fame, and rock critic Dave Marsh--all offered different definitions of what constitutes "soul music," and where it can and cannot be heard today. But with the tenor of all of his comments, as well as with an a cappella rap of a stunning new tracks about his child custody battle, Rhymefest made it clear:
Soul music is music made by people who are not afraid to bare their souls.
"Unless you've spent time in the south or the midwest, it's hard to grasp not the academic definition of soul music, but the blue-collar working-class definition of what it really is," Rhymefest said.
The co-author with Kanye West of "Jesus Walks," Rhymefest condemned the rampant sexism and consumerism in much of the best-selling hip-hop, and attacked the business model of an industry where an artist can sell 130,000 records, as he did with his debut "Blue Collar" in 2006, "and they still make you feel like a loser."
Rhymefest has parted ways with Clive Davis and J Records and is gearing up to release his next album "El Che" independently on May 18. And the sample he provided, two verses of "The City is Falling," indicates that he isn't backing off from telling it as he sees it--though he didn't exactly square how his support for Walmart jibes with his attacks on commercialism in music.
"Artists are supposed to mean something," the rapper said. "It would have killed me if Stevie Wonder had sold 'Ribbon in the Sky' to a cologne and an energy drink and made a reality TV show."
Here, here.
The post-print music journalism panel offered no such rallying cry as a group comprised mostly of young journalists (some excellent, such as Maura Johnston ex- of Idolator, and some verging on annoying gimmickry, such as Chris Weingarten) bemoaned the shrinking number of paying media outlets and the simultaneous proliferation of blogs that are more about promoting free MP3s than providing critical insights or significant journalism.
These are problems no music journalist would contest. But other problems went unmentioned. As noted in another post on this blog, the top Justice Department official responsible for approving the Ticketmaster/Live Nation merger spoke at SXSW about 24 hours before this session, presenting herself to be questioned about one of the most important, far-reaching and controversial stories in the music industry during the last 25 years. Yet few journalists, online or otherwise, bothered to cover it.
And as of this writing, only one blog, run by activists the Future of Music Coalition, has posted an account of Varney's appearance -- that is, if you discount those hosted by the big, old, dead-tree-media institutions of the Sun-Times, the Tribune and the Los Angeles Times.
SXSW 2010: Night three, the showcases
By Jim DeRogatis
March 20, 2010 2:00 AM
Honing to my trusty method of adapting Brian Eno's theory of "happy accidents" in the recording studio to a tired rock critic stumbling from club to club in search of chance musical discoveries, my third night in Austin yielded some great results, as well as a fair share of duds. But I'll mostly stick with recounting the peaks.
Intrigued by the name of a band from Minneapolis called Gay Witch Abortion, I started my night at a club called Soho (pretty much the diametric opposite of the Soho one would find in New York, but that's beside the point).
<![if !vml]>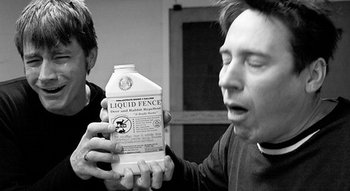 <![endif]>
Gay Witch Abortion
A duo comprised of Shawn Walker on drums and Jesse Bottomley on guitar and (minimal) vocals, the band played a punishing brand of stoner-rock that incorporated just enough of a modern post-rock edge to justify the musicians' short haircuts. (No Sasquatch, these boys.) Touchingly, they also seemed to have their parents selling their merch at the back of the club. (Feel the raw power here.)
From there it was back to Mohawk Patio for a packed showcase of cutting-edge hip-hop and electronic acts promoted by Chicago's Biz 3 publicity firm.
How hip was the room? I spotted an incognito Perez Hilton--he was wearing a hat over his silly hairdo, and he stuck his conference registration badge inside a pocket as soon as he entered the club--frantically rushing to elbow his way in.
I had come for the much-buzzed female rapper Uffie, but things were running so late, I caught two other acts first.
<![if !vml]>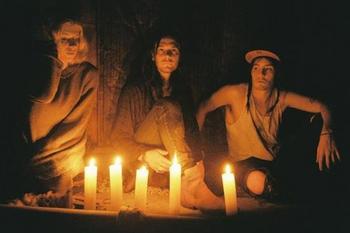 <![endif]>
Salem: Heather Marlatt, John Holland and Jack Donoghue
Salem is a trio from Traverse City, Michigan, though they also spent some time in Chicago, which creates a dense, difficult, sludgy but sexy sound that is simultaneously alienating and seductive, with elements of trip-hop, gothic darkwave, Southern hip-hop and electronic pop music. Part of me loved it, and part of me hated, but I certainly am intrigued enough to eagerly seek out their recordings as soon as I get home.
<![if !vml]>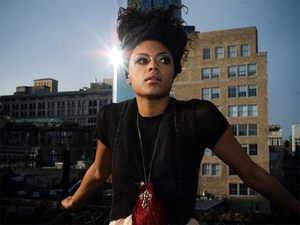 <![endif]>
Maluca
It was much easier to make up my mind about Maluca, a New York rapper of Dominican descent who affected fashion-model cool while wearing a SWAT helmet (don't ask me why) and moving in tandem with two dancers who flanked her. The artist's self-described "electro meringue" was not without its appeal, but her performance was flat and uninspired, and she seemed to be doubling her vocals over canned backing tracks. (Check it out here.)
<![if !vml]>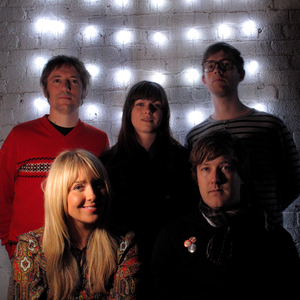 <![endif]>
Summer Cats
Meanwhile, in the smaller side room at Mohawk--many Austin clubs have two stages, one inside and one outside--a quintet from Melbourne, Australia, called Summer Cats jangled through a delightful set that mixed equal parts vintage Go Betweens' pop sophistication and Beat Happening garage naivete. (Bop along while listening here.)
<![if !vml]>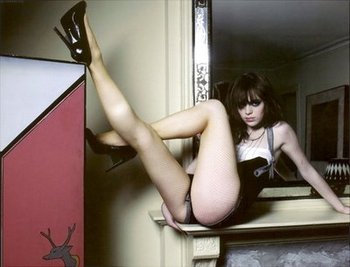 <![endif]>
Uffie
Finally, Uffie took the stage back outside. Born Anna-Catherine Hartley in Florida but raised in Hong Kong and now based in Paris, the globe-trotting rapper mixes synth-pop, electronica and hip-hop on her forthcoming debut album "Sex Dreams and Denim Jeans," a title that hints at the often very salty language and in-your-face sexuality of her lyrics. The word in the dance underground is that Ke$ha! pretty much ripped off her act from Uffie, but so far, I'd say Lady Gaga has it all over both of them.
From there, I headed back to Elysium, which was now hosting SXSW's "Japan Nite," for an artist called Omodaka.
<![if !vml]>
<![endif]>
Omodaka
A solo project by electronic composer Soicchi Terada, Omodaka mixed entrancing electronic sounds, strange video projections and a reworked space-age take on Kabuki theater, making for a set that was otherworldly both musically and visually. (Sample the music here.)
Night three ended for me back at Stubb's again (ugh) with a fascinating Bay Area act called Beats Antique.
<![if !vml]>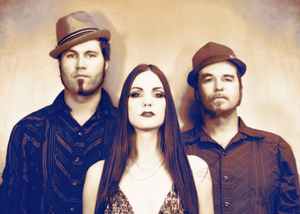 <![endif]>
Beats Antique
Musically, producers David Satori and Sidecar Tommy create an unlikely mix of electronic burbles, live trance drumming and Middle Eastern drones, but just as important is the non-musical third partner in the core trio, bellydancer Zoe Jakes, who helps turn the already entrancing sounds into a full-fledged tribal fusion bacchanal. Recently signed with managers C3 Presents, it's a pretty fair bet they'll win a sweet slot at Lollapalooza. (Sample the music here.)
SXSW Night Three: Anders Smith Lindall reports
By Jim DeRogatis
March 20, 2010 1:53 PM
Contributor Anders Smith Lindall reports:
The music industry in general, and SXSW-goers in particular, tend to be consumed by the latest thing. Instead of what's best, the focus is what's next: the next hot song, next buzz band, the next must-see showcase flogged in the next pithy tweet.
We're all guilty of it. But my Friday here in Austin shook me loose from that shortsighted mindset.
For that I can thank Smokey Robinson, the R&B giant and creative force of the Motown era who performed at the Austin Music Hall a day after delivering the conference keynote address. Leading a big band and wearing a Cheshire cat grin, he gave the crowd a crash course in his catalog--in itself a mini-history of American pop and soul that he embroidered with stories of working with Stevie Wonder and the Temptations.
His hits are indelible, and the versions played here were faithful, but Robinson and the band tweaked them just enough to sound fresh. In addition to "The Way You Do the Things You Do," "Get Ready," "My Girl" and "Tears of a Clown," there was a funky "I Second That Emotion," a stripped-down and smoldering "Tracks of My Tears," and a slow-burning "Ooh Baby Baby" that served as a vocal showpiece. The cheers for that one stopped the set, making the 70-year-old Robinson laugh, "Yeah, I still got it."
An inheritor of Robinson's legacy, Raphael Saadiq led off for the legend and nearly stole the show.
Cutting a sharp figure in a red suit straight out of a Sixties soul revue (just as depicted on the cover of his latest album, The Way I See It) the onetime Tony! Toni! Tone! star commanded a crack band, sang spotlessly, executed old-school choreographed dance steps with a side man, and on one song even ripped a killer lead guitar. Dazzling as a singer, composer, player and performer, Saadiq served up a sorely needed reminder of what it means to entertain.
Though he appeared hours earlier at an unofficial outdoor venue and worked a very different vein, Billy Bragg too scored one for the old guys. Rather than the mannerly Uncle Bill of his recent records, this set channeled the brass-tacks radical Bragg of his roots.
When he squeezed an acerbic update of "To Have and To Have Not" from his clanging old electric, I thought its lyrics ("the factory's closing and the army's full") sounded maybe more urgent today than iwas 20 years ago. But Bragg went further, arguing that Woody Guthrie himself remains just as relevant now, and to prove the point he played "I Ain't Got No Home in This World Anymore" and "All You Fascists Are Bound to Lose."
For anyone weary of the political gridlock and popular disaffection that have only deepened since the 2008 election, his between-song monologues were a tonic. "It's a hard push," he acknowledged, but "our enemy is our own cynicism," he said, dedicating to the crowd his recent song "I Keep Faith" and ending on fiery, raised-fist renditions of "A New England" and "There Is Power In A Union."
It all made the hype machine's latest darlings pale in comparison. It was easy playing spot-the-influences with Florida four-piece Surfer Blood, including Sonic Youth, the Pixies and even the Shins. You could do worse than such touchstones, of course, but they also often echoed Vampire Weekend. In 2010. Could we wait just a few years for the revival?
Likewise, no disrespect to Best Coast, the young California trio. Led by Bethany Cosentino, its recordings reanimate Lesley Gore with a modern surf-rock twist; onstage at Emo's, though, the band's sound was straight outta the garage, all pounding tribal rhythms and Cosentino's paint-peeling lead guitar. That gritty grounding set off her girlish vocals, but her lyrics ("the world is lazy/and you and me are crazy") were still less filling.
Far worse was Dam Funk, a self-styled dance-floor instigator who played electro beats on a laptop, chanted, threw his arms in the air and very occasionally sang, but didn't bother to deliver any tunes, hooks, lyrics, visual interest or charisma.
That's not to say I'm ready to retire to the old folks' home; I saw excellent performances on Thursday from young acts, too. A band I've loved on record but not in concert, Frightened Rabbit matched the fervor of their albums, guitar-centric sweep couching heartsick, hangdog lyrics from one of rock's latest great voices, Scott Hutchison's sweat-soaked, tear-stained cry. The Bloodshot Records product Ben Weaver rasped dark, knotty ballads in the vein of Midwestern folk lodestars from Bob Dylan to Greg Brown; sister act The Unthanks gave an elegant, strings-and-piano update of their own British Isles folk traditions. And The Very Best, whose blend of dance and pop forms from Europe and West Africa drew attention a year ago, closed the night with an infectious dance party at Emo's. By the end of this last gig, it seemed like half the crowd was on stage, bobbing, weaving and shaking in a throng that enveloped singer Esau Mwamwaya.
But that crowd was comparatively small. Why did an act so recently tabbed as rising stars draw just a few hundred people to a marquee venue in a headlining slot? Because there's someone else to hype now, another one tomorrow and the day after that. The buzz waits for no band.
SXSW 2010 ends with a lot of love for Alex Chilton
By Jim DeRogatis
March 21, 2010 3:18 AM
<![if !vml]>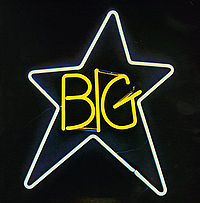 <![endif]>
For many who attended South by Southwest 2010, the final day of the conference was all about power-pop great Alex Chilton, who died at age 59 on Wednesday.
It only made sense: As has often been said of the Velvet Underground, Chilton's beloved band Big Star never sold a lot of records, but it often seems as if everyone who bought one started a band--or became a rock critic. And the largest gathering anywhere in the world of people who loved his music took place over the last five days in Austin.
The celebration of Chilton's life and legacy began during the day at the convention center with a panel entitled "I Never Travel Far Without a Little Big Star," moderated by music journalist Bob Mehr, the former Chicago Reader rock critic now at the Memphis Commercial Appeal who broke the news of the musician's death, and who wrote the liner notes to last year's Big Star box set, "Keep an Eye on the Sky."
Mehr started by noting that a very different sort of discussion had been planned, and the initial impulse was to cancel the talk and Saturday night's showcase gig by the reunited Big Star after Chilton's death. Instead, both became a sort of Irish wake.
The surviving members of the original Big Star, drummer Jody Stephens and bassist Andy Hummel (the other key member, Chris Bell, died in 1978) were joined by Ardent Records founder John Fry via Skype from Memphis in recounting Chilton's uniquely musical and bohemian upbringing, and the optimistic early days of Big Star, which Chilton joined after already having had one career as a teen star in the chart-topping Box Tops.
Other participants on the panel--power-pop disciples Tommy Keene and Chris Stamey and Posies bandmates Jon Auer and Ken Stringfellow, who backed Chilton and Stephens in Big Star Mach II for the last 18 years--contributed anecdotes and insights stemming from their love of Chilton's singing, songwriting and virtuosic guitar playing, as well as diplomatically worded glimpses of his personality, which could rank second only to Lou Reed's in terms of cutting wit, brutal honesty and overall surliness.
Stephens recounted a meeting between Chilton and Charles Manson at Beach Boy Dennis Wilson's house and noted, "Manson had met his match." And Wilco's Jeff Tweedy, who had been invited to come to Austin for Saturday night's musical tribute but could not attend, passed along to the panel that, whatever one thought of his personality, it was consistent: "Alex was Alex all of his life."
Much later in the day--or actually early Sunday morning--the planned Big Star showcase at Austin's storied club Antone's turned into an all-star tribute that began after a few heartfelt words from the always humble and classy Stephens, and the reading of an eloquent tribute written by Chilton's wife Laura. (The two married last August.)
Then the man was celebrated in the most fitting way possible: through his music.
With Stringfellow and Auer leading the way, delivering gorgeous harmony vocals and intricate guitar and bass lines, and Stephens mixing the frenetic chaos of Keith Moon with the spot-on devotion to the groove so common in Memphis soul, a procession of guest musicians helped underscore both the timeless beauty of Chilton's best songs and the wide-ranging influence his music had across different genres and generations.
Relentlessly melodic and at times transcendent, there could have been no better way to bid Alex Chilton farewell (though Paul Westerberg of the Replacements certainly did a fine job with the op ed he wrote for the New York Times on Saturday).
Here is the set list and the roster of guests at Antone's:
1. "Back of a Car"
2. "Don't Lie to Me" (with Curt Kirkwood of the Meat Puppets)
3. "In the Street" (with Kirkwood)
4. "I am the Cosmos" (Chris Bell song, with Chris Stamey of the dB's)
5. "When My Baby's Beside Me" (with Stamey)
6. "Big Black Car" (with M. Ward)
7. "Way Out West" (with Andy Hummel)
8. "Daisy Glaze"
9."Jesus Christ" (with Mike Mills of R.E.M.)
10. "For You"
11. "I'm in Love with a Girl" (with John Doe of X)
12. "The Ballad of El Goodo" (with a stunningly brilliant vocal by Sondre Lerche)
13. "Thirteen"
14. "Feel"
15. "Thank You Friends" (with Chuck Prophet)
16. "Nighttime" (with Evan Dando)
17. "Try Again" (with Dando and Amy Speace)
18. "September Gurls" (with the Watson Twins, Susan Cowsill, Mills and Hummel)
SXSW Night Four: Anders Smith Lindall reports
By Jim DeRogatis
March 21, 2010 12:35 PM
Contributor Anders Smith Lindall reports:
The last show of South by Southwest 2010--the tribute to Alex Chilton--was its one must-see event, and its emotional capstone. Starring original Big Star members Jody Stephens and Andy Hummel plus Ken Stringfellow and Jon Auer (who played with the band in recent reunions for more than a decade), the gig drew special guests Mike Mills of R.E.M., John Doe (X), Chris Stamey (the dBs), Chuck Prophet (Green on Red) and more. In all the dozen and a half songs they delivered at Antone's formed a moving tribute to Chilton's artistry and legacy. (Read Jim DeRogatis's full review and his Chilton obituary.)
Otherwise, the conference and festival ended not with a whimper or a bang but a shiver. Chicago-like wind gusts and temperatures diving below 40 degrees on Saturday afternoon made hats, scarves and mittens the most-sought fashion accessories.
Aside from the Big Star performance, the best act I saw on this last day of Austin show-going was Miss Li, stage name of the Swedish songwriter, singer and piano player Linda Carlsson who played at the opulent, historic Driskill Hotel.
Shouting and fervently pounding the keys, Miss Li radiated spunky energy. She's grounded in pop and the blues, not punk, so the likeness wasn't exact, but her showy persona resembled Ida Maria, another young female force of nature from the same part of the world. Carlsson's excellent band sang spot-on harmonies while plying acoustic and electric guitars, saxophone, bass and drums, serving as the foil for arch lyrics like, "Deep down I know I'm not a stupid girl, but I still make all those mistakes."
Another group that proved its ability to entertain was The Bewitched Hands on the Top of Our Heads, a sextet from Reims, France. With three guitars surging and everyone singing, their rattling rock filled the St. David's sanctuary and called to mind recent collectives Broken Social Scene, the Arcade Fire and even the Polyphonic Spree, minus the white robes and weird hippie-cult vibe. They managed to get some people up and dancing in the pews.
At Emo's, the young rapper Grieves (Benjamin Laub) showed tenacity in a tough situation, playing first on a long bill before a cold, tired crowd. But the real find here was Budo (Josh Karp), a beatmaker who did more than scratch records and program drums. When Grieves paused to "introduce the band," he gave separate introductions for a trumpeter, a guitarist, a keyboard player and a DJ, every one of which was the very busy Budo.
Earlier at Stubb's, actress Zooey Deschanel and singer-songwriter M. Ward made the last of their many SXSW appearances as She & Him. They were charming and fun, though Ward's distinctive voice and guitar chops were both underused; as a singer, Deschanel was just OK. All this isn't hurting anyone, of course, though it's tough to tell exactly what's the point. I'm not sure that girl-group pop, Emmylou Harris country and lilting show tunes were crying out for a contemporary update, but if so, Chicago's own Kelly Hogan certainly does it better.
Throughout Saturday I also heard several songs or full sets from, among others, the French-born, Tucson-resident singer Marianne Dissard, who performed material from an album produced by Calexico's Joey Burns; the indie rockers Real Estate, who didn't seem to have an agenda greater than cranking out a pleasant R.E.M. jangle; Washed Out, whose mostly electronic pop sounded like ho-hum wallpaper to these ears; and Broken Bells, the collaboration between James Mercer (the Shins) and drummer/producer Brian Burton (Danger Mouse).that drew blocks-long lines to every gig.
In all I saw some 60 acts play between late Tuesday night through early Sunday morning. Check out the rest of my SXSW coverage at these links: Day One, Night One, Night Two, Night Three.
Anders Smith Lindall is a Chicago freelance writer and longtime contributor to the Sun-Times.